IP embedding camera with IR diodes (ID: I06)
Yes! We Ship To:
United States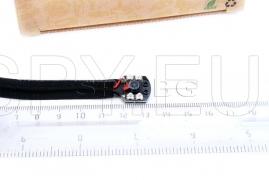 Price includes VAT | Warranty 12 Months.
Shipping and handling to
United States
Amount:
5.38€
Description
The IP camera can embed in your selected object and thus you can receive sound and picture from the desired location. Besides the Internet, you can use the camera for P2P connection only and receive the signal only within your home. The camera has a microSD card slot which can keep recordings. For operation in the dark there are four IR LEDs that you can start and stop remotely. With a free application for Android and iPhone you will have full control over all the camera functions. Video resolutions are four - 1080p, 720p, 480p or 640p. Setting it up with your home router is extremely easy. Fill only one text file with the network name and password and the camera automatically connects. In addition to phones you can get an image from the camera on a computer from which you can watch live picture or download recordings made on the card. Works with battery voltage 3.7V. Dimensions of the camera 15x15x7mm.