There are video systems that allow you to do a complex video surveillance of the whole building, floor or home. And they all have one main feature - offer high reliability for those who use them. Naturally, this depends on what is being used.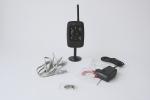 IP camera for LAN and wireless networks
Price: 77.95 €.

Video surveillance set - 8 cameras
Price: 427.95 €.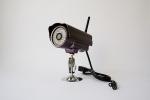 Waterproof IP Camera for outdoor mounting
Price: 98.95 €.
If you want to keep an eye on your home continuously in real time, your business or bank, then a good alternative is IP cameras that transmit over the Internet in real-time. And which can be controlled remotely. Installation is extremely easy and the effectiveness - extremely high. Once you connect them, power them on and they are ready for operation, you, remotely using a PC, smartphone or tablet and password, can operate the various functions of the camera or cameras. Username in most cases is your camera model and the password - the serial number. This will ensure that persons that do not have business with the admin panel of your hidden camera won't access it.
And once you are in it, you can choose from various options such as picture in picture or split the screen into several smaller ones. Each of the broken screens is a part of the observed room or building. That way you have a complete system that will meet the needs and expectations, and it can also send you a text message informing you that in front of one or several cameras there was movement which the motion detector registered and triggered the device.