Simply put - yes, you can use a quality and powerful hunting camera to guard your garden, agricultural area or simply attach it somewhere in the reserve where animals need to be monitored constantly but without disturbing to their natural environment. The camera is battery powered which makes it practical and fast in terms of power and operation.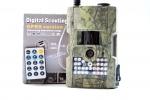 8 MP MMS hunting camera
Price: 372.95 €.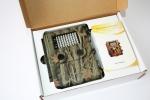 12 MP hunting camera
Price: 181.95 €.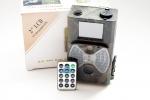 Hunting camera with 12MP 2" display
Price: 171.95 €.
To take advantage of its options simply insert a microSD card which will save files and then insert batteries - 4 or 8 depending on the model and turn it on. In order to spend less electricity and not to record the bushes only, the camera has a built-in motion detector which can be configured manually. Then the camera will start recording when movement is detected and the owner provided he made the right settings will receive text messages informing him that the device began recording.
There are several types of resolutions as well as remote control that you can use when you put the camera in your garden and you want to have constant monitoring to make sure that nothing happens at night or when you are not there to see if there something that might harm you or your property. Hunting cameras have a very powerful tool for night vision making them the preferred device for professional security.